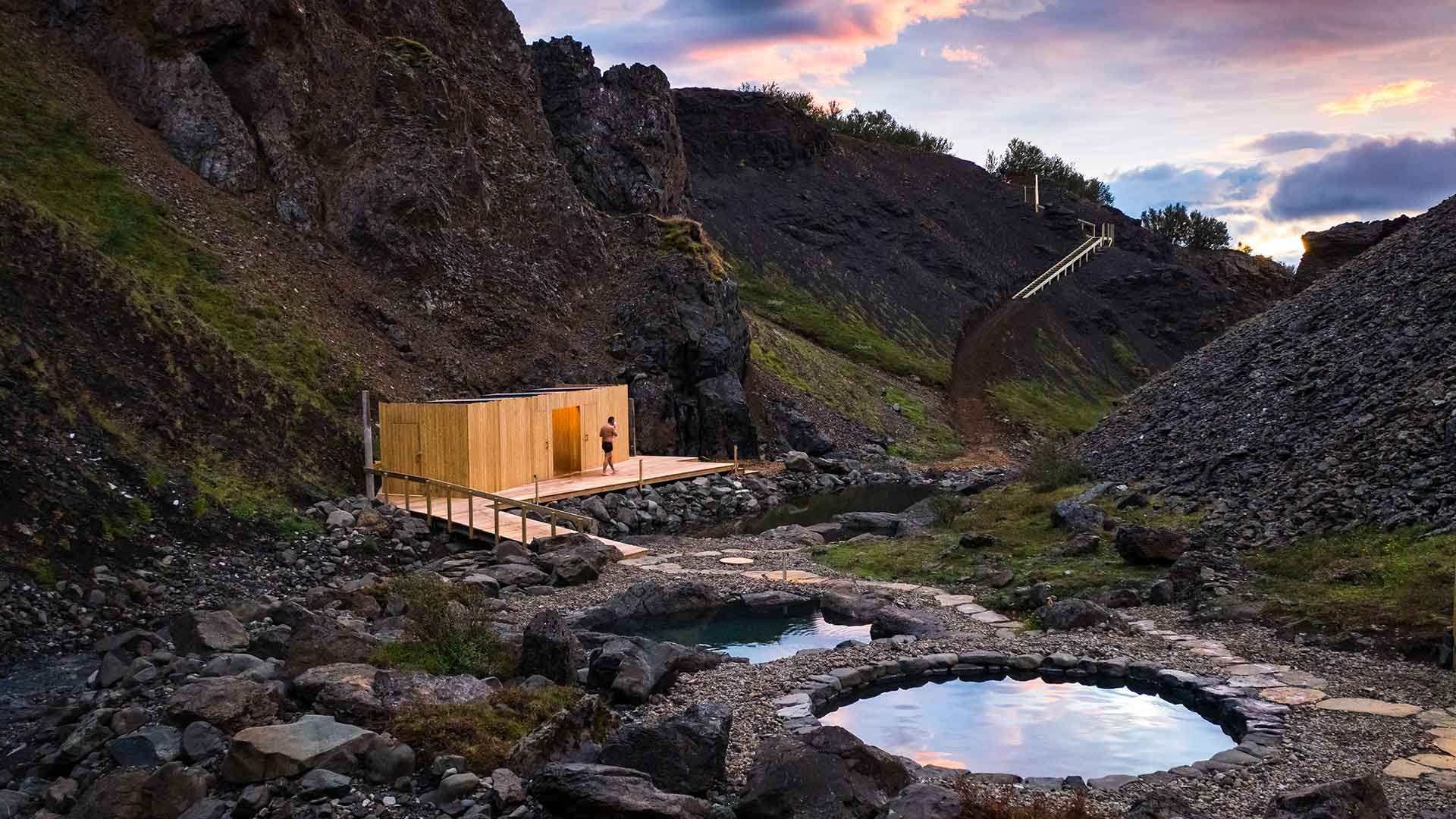 There is no experience more authentically Icelandic than hiking through the surreal landscapes of the highlands followed by a relaxing soak in a geothermal pool.
THE CANYON BATHS
The Húsafell locals who undertook the Canyon Baths project went to great lengths to keep the entire structure as environmentally unobtrusive, sustainable and true to the area's heritage as possible. Choose from three geothermal pools of varying temperatures, 30-41°C (86-105°F), plus a cold-water spring at 10°C (50°F), each with a spectacular view of the surrounding canyon, mountains and glaciers.
A stunning hike through remote Icelandic wilderness ending with a geothermal soak in pools nestled in a magnificent highland canyon.
AN AUTHENTIC ICELANDIC SOAK
Constructed from locally sourced, natural materials like flagstone from the canyon floor, the baths are hot-spring fed pools designed to blend into the environment seamlessly using the age-old methods that created Snorralaug, a heritage site pool dating back to the 10th century. The on-site bathhouse is made from salvaged timbers from the area. Even the hooks in the changing room are repurposed horseshoes from a nearby family farm.
HIKING TO THE BATHS
Led by a knowledgeable local guide in English, this year-round tour begins with a short ride from the Hotel Húsafell to the trailhead in the remote Icelandic Highlands. On this 2-hour tour we enjoy a relaxed walk among natural wonders not found in many guidebooks, including the spectacular two-tiered waterfall Langifoss. We'll also learn about Iceland's renewable energy practices, cross an icy stream of glacial meltwater and see the site to Okjökull, Iceland's first glacier claimed by climate change.
The highlight of our excursion is a serene soak in the recently completed Húsafell Canyon Baths, a surreal hot spring paradise that has to be seen to be believed. Enjoy half an hour of relaxing, recharging and breathing in the pure Icelandic air before heading back to Hotel Húsafell, where you can, if you choose, explore the swimming complex.
PLEASE NOTE
This hike is rated as easy and is appropriate for all skill levels. There is a maximum of 20 participants per outing.
Canyon Baths
Easy hiking
Geothermal pools
Mountains
Glaciers
Local,  guide
Transport
Entrance
swimming complex
Hotel Húsafell
Gratuities
Warm, waterproof outdoor clothing Hiking boots, Swimsuit and towel
Jump start your Adventure