Buggy tour Extra 2Hr. Reykjavik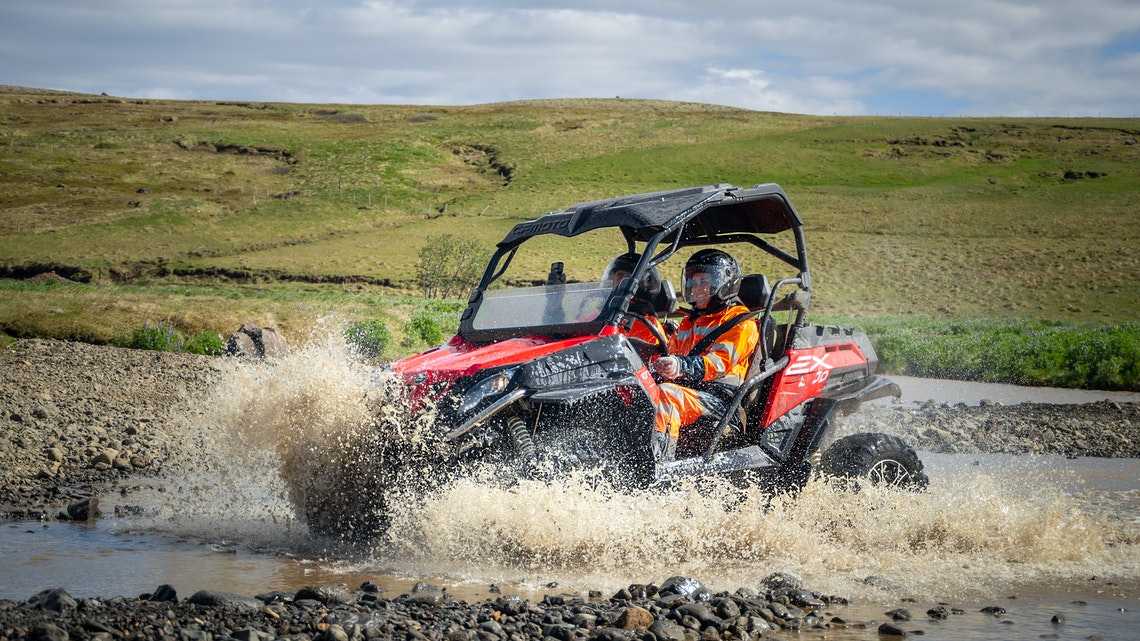 2 Hour Buggy Tour on the Outskirts of Reykjavik!
This extended guided tour is designed for those who crave even more challenges and driving thrills. You get to enjoy more of the nature around Reykjavik – driving on mountain trails that not even the locals know about!
The tour is available all year round and is enjoyable in all weather – yes, even in rain… The Wetter the Better! You really get your adrenaline pumping on this tour… It is guaranteed fun!
Get dressed in our waterproof gear, strap into your two-seat Buggy and prepare to overcome obstacles in the rugged landscape by the slopes of Esja, the city mountain. From there we continue along trails further into the mountainous landscape far away from all other traffic.
We stop a couple of times on the way for the view, to take photos, enjoy the fresh air and in case both you and your travel partner want to experience the joy of driving the buggy you can swap drivers during the stop.
All you need for this tour is a spirit for adventure, a valid driving license for the driver and perhaps a change of clothes… that is if you really like to splash in all the rivers!
Buggy Extra
We are based only a 20 minute drive from downtown Reykjavik and we provide pickup on request.
When you arrive at our base you receive waterproof gear before you strap into your two-seat Buggy and drive directly onto bumpy mountain roads, climb hills, cross rivers, and splash around. No time is wasted on tarmac!
On this tour we go further into the mountains east and north of the greater Reykjavik area. You get twice the amount of driving time compared to our 1 hour tour. We stop a couple of times on the way to enjoy the view, take photos and to swap drivers… If 1 hour isn't enough driving time for you then you can always book a private buggy and get full 2 hours behind the steering wheel!
Our CFMOTO ZFORCE 800cc and 1000cc Buggies are equipped with a 4-point safety harness, a roll-cage and automatic transmission for driving ease and safety… allowing you to drive faster and have more fun!
Two-seat Buggy.
Bumpy ride.
Mountain roads.
Climb hills.
Cross rivers
Splash around.
Guided Buggy tour
Helmets,
Gloves,
Balaclavas
Overalls
Shoes for the outdoors, warm clothing under the overall, a camera, and something to drink
Jump start your Adventure